Author: Ingrid Stiver Senior Manager, PwC Health Research Institute, PwC US August 29, 2018
PwC's Health Research Institute (HRI) projects a 6 percent medical cost trend in 2019, consistent with the 5.5-7 percent range of the previous five years. But employers continue to struggle to contain their employee coverage costs. Medical costs continue to grow, yet the workforce's health and performance aren't improving. Average labor productivity growth of 1.1 percent over the last 10 years falls far below the 2.3 percent average of the last seven decades, according to a report by the US Bureau of Labor Statistics.
HRI's analysis measures anticipated medical cost trend in the employer-based market, which covers about half of non-elderly Americans, according to a report by Kaiser Family Foundation. Changes to government health insurance, including Medicare, Medicaid and plans sold on the public exchanges created by the Affordable Care Act (ACA), are not within this analysis' scope.
HRI's research points to three factors inflating medical cost trend in 2019. One of them is the proliferation of provider megamergers. HRI estimates that by 2019, 93 percent of most metropolitan hospital markets will be considered highly concentrated, according to an analysis of census data. In the short term, this trend likely will lead to higher prices for medical services in these markets as providers have more negotiating power with payers and increased expenses from integration. This will likely inflate medical cost trend for 2019.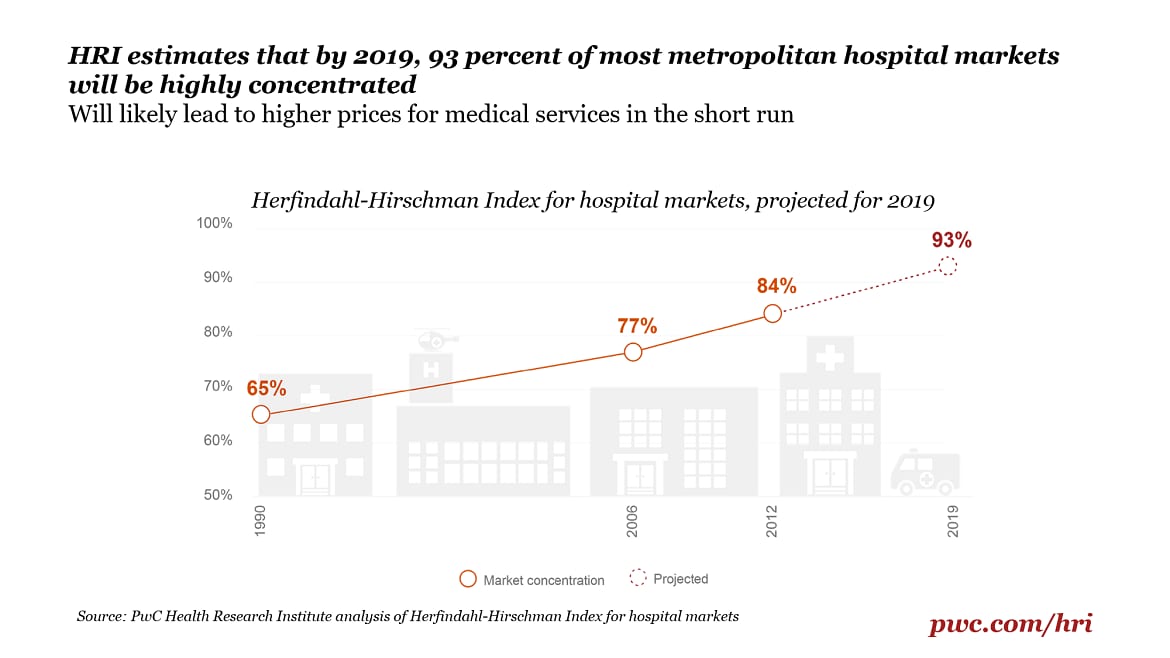 (Note: This graphic was produced through an analysis by HRI of the Herfindahl-Hirschman Index for hospital markets with a score of greater than 2,500 from the Medicare Payment Advisory Commission, "Report to the Congress: Medicare and the Health Care Delivery System, Chapter 10: Provider consolidation: The role of Medicare policy," June 2017. Note that the MedPAC report included three data points for market concentration as follows: 1990 (65%), 2006 (77%) and 2012 (84%). HRI projected 2019 by calculating the compound annual growth rate for the three MedPAC provided data points and projecting it forward.)
But over the long term, economies of scale and efficiencies may be achieved. In 2017, the number of announced hospital and health system deals increased nearly 13 percent from 2016, the highest number of transactions since 2000. Of 115 health system and hospital mergers announced in 2017, 10 were mega-deals involving sellers with net annual revenues of at least $1 billion, according to a report by Kaufman Hall.
The intent of these deals is to achieve scale to invest in the infrastructure and programs necessary to drive quality, convenience and customer satisfaction, and ultimately deliver value to consumers, employers and health insurers. The short-term result is often higher prices. "There has been little to no action taken to stop providers from concentrating or taking price increases," said Sherry Glied, dean of New York University Wagner Graduate School of Public Service, in a recent interview with HRI. "If inflation ramps up and consolidation continues, expect to see strong upward pressure on prices."
As the market becomes more concentrated, medical prices may rise in two main ways. First, overnight price increases may occur when the acquiring organization has higher reimbursement rates. Second, "You're going to increase prices because you'll have more leverage to negotiate higher prices going forward," said Thomas Getzen, former executive director of the International Health Economics Association, in an interview with HRI. "It's just that simple."
Provider leaders also noted that they are considering merging with or acquiring additional facilities within the next five years. Many provider executives are considering merging with or acquiring different types of care facilities within the next five years.